Poster Design
| 03.23.2016
Last Night at the Alamo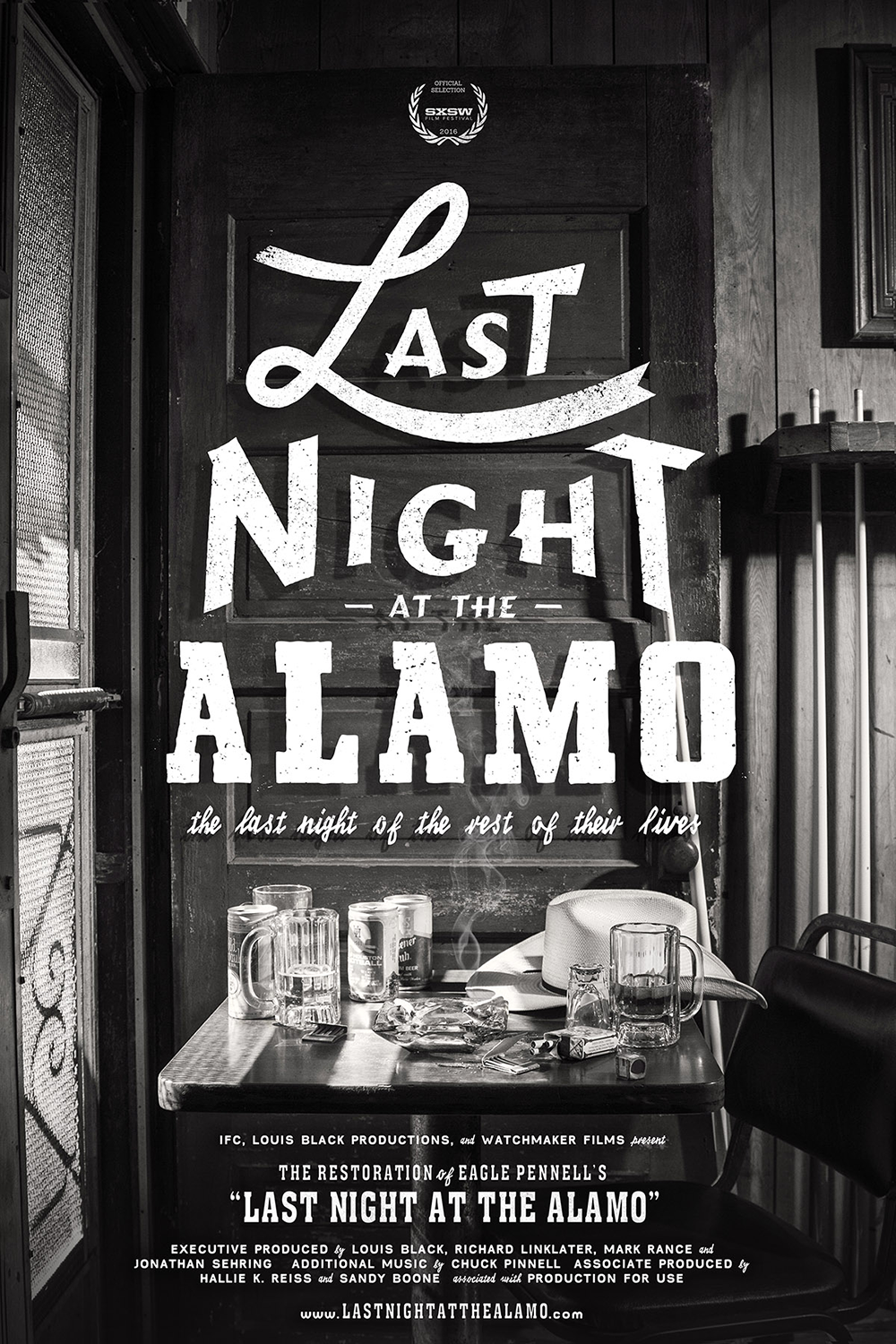 Click on the photo to enlarge or see more images
CLIENT: Louis Black Productions
MEDIUM: Print
PROJECT DESCRIPTION: Poster Design for the restoration of the film Last Night at the Alamo by legendary Texas director Eagle Pennell. With the help of Richard Linklater and Jonathan Sehring at IFC, Louis Black Productions and Watchmaker Films restored the original 16mm black-and-white print negative, including audio from the original mix stems. This essential, groundbreaking independent film premiered at SXSW in March, 2016.

This was one of my favorite poster designs ever and in large part that had to do with the sweet intersection of film, design and Texas dive bars.  Louis Black Productions trusted me with this poster for the restoration of this much-acclaimed, almost lost film which follows a young Sonny Carl Davis as Cowboy and his ne'er-do-well friends on the last night in their beloved dive bar, "the Alamo."
Frequently with modern films, you can easily pull high res stills from the digital footage or even better, be given photos taken on set by a photographer during production to use for the poster.  That wasn't an option here.  So instead, I recruited my husband, and skilled photographer, Christopher Shea, and we headed to one of Austin's last real dive bars,  Deep Eddy Cabaret, to try to recreate a setting that would look authentic to the film.  I was lucky in that I had a good relationship with Linda at Out of the Past Collectibles who supplied me with beer cans from the early 1980s, and some dusty ol' ashtrays and other dive bar pieces.  She helped out so much when I pulling props last year for the Doug Sahm documentary, and she came through for me again bigtime.   The cowboy hat is my own, and I placed it in the scene just because it resembles the one Sonny Carl wears.  I had only seen the first eight minutes of the film at that point, which was all that was available to see of the restoration, and I didn't yet know that there is a huge moment in the film when the cowboy hat comes off.   So having it here on the table was a lucky stroke of accidental genius.  Once we staged the scene and got our shot, I just had to had to add details like the cigarette smoke in photoshop, and had a result that no one realized was an original photograph. I used some found fonts and some hand-drawn elements in the typography for that gently busted, broken-down feel.  One of my favorites, for sure.  Makes me thirsty for a cold beer just looking at it.
Find out more about the film here:  lastnightatthealamo.com
All photos and work are attributed to Five and Four unless otherwise noted. Please give credit if used elsewhere.
Purpose
This is the online showcase of the work and interests of Jennymarie Jemison, the owner and creative director of Five and Four. The work herein was created by Five and Four, which is Jennymarie and select collaborators. Favorite topics include work, life in Austin, film, and freelance success.