Lauren Reynolds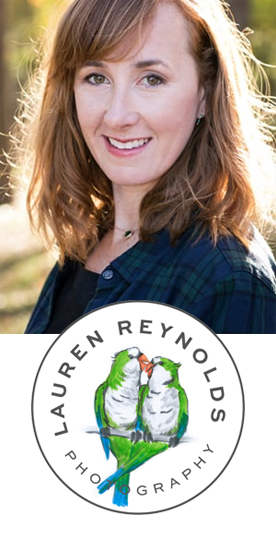 CLIENT: Lauren Reynolds Photography

THE WORK: Branding, Collateral
Full disclosure:  Before Lauren Reynolds was my client, I was hers.  She photographed my wedding and that's really how I got to know her.   When she came to me to revamp her branding, she wanted to create something that was sophisticated, yet quirky, that also spoke to her Austin-based business.  Her new logo features a hand drawn mascot pair of monk parakeets, which are found wild in Austin.  We depicted them lovebird-style speaking to the couples she photographs.  The brand is high-end, yet completely friendly, warm, and unpretentious, just like Lauren herself.
All photos and work are attributed to Five and Four unless otherwise noted. Please give credit if used elsewhere.
Purpose
This is the online showcase of the work and interests of Jennymarie Jemison, the owner and creative director of Five and Four. The work herein was created by Five and Four, which is Jennymarie and select collaborators. Favorite topics include work, life in Austin, film, and freelance success.