New Work
| 03.29.2016
Alkemy Brewlab Branding and Label Design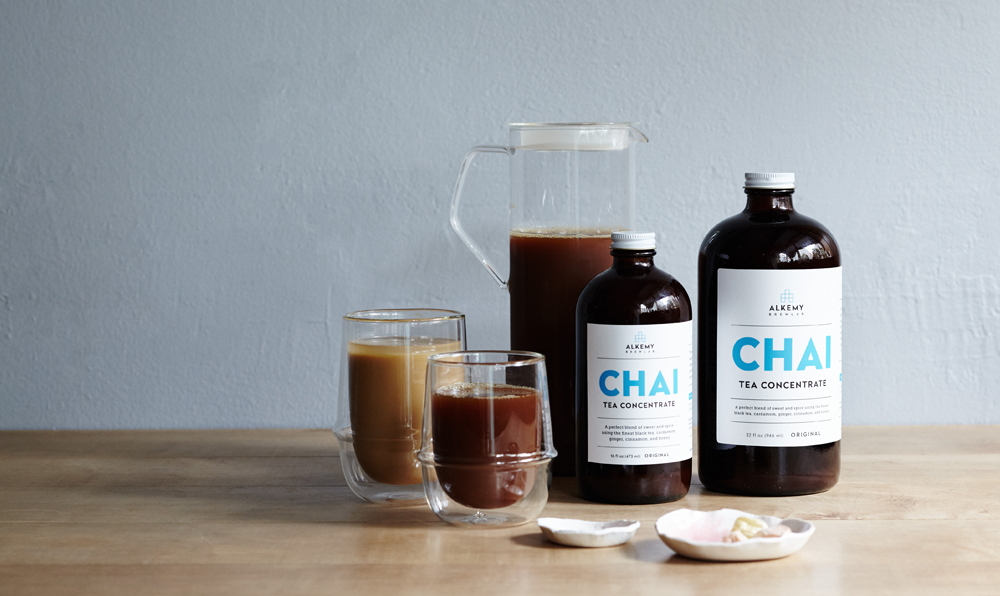 Click on the photo to enlarge or see more images
CLIENT: Alkemy Brewlab
MEDIUM: Branding and Label Design, all photos courtesy of Alkemy BrewLab
PROJECT DESCRIPTION: Logo Design and outer and inner label design for 32 oz and 16 oz chai tea concentrate

In Greenpoint Brooklyn, a mom and pop coffee shop, Crema BK, is quietly perfecting chai. The husband and wife team approached their recipe scientifically, experimenting with measurements, ingredients, and brewing techniques until finally arriving at something that finally met their very high standards.   They then figured out how to prepare a concentrated version, so that their customers could buy a bottle to take with them and prepare at home.  It was a hit.  The obvious next step was to figure out how to do it on a larger scale.  Thus, Alkemy Brewlab was born.  The name is a nod to all their exacting scientific methods that led to that perfect recipe, not too spicy, not too sweet.
Referrals are my favorite way to come by new clients.  And this client came by way of Earlybird Granola, which was sold at their shop, which led them to ask, who did this packaging?  Which led them to me.  A pretty sweet story, if I do say so myself.
All photos and work are attributed to Five and Four unless otherwise noted. Please give credit if used elsewhere.
Purpose
This is the online showcase of the work and interests of Jennymarie Jemison, the owner and creative director of Five and Four. The work herein was created by Five and Four, which is Jennymarie and select collaborators. Favorite topics include work, life in Austin, film, and freelance success.