Rama Tiru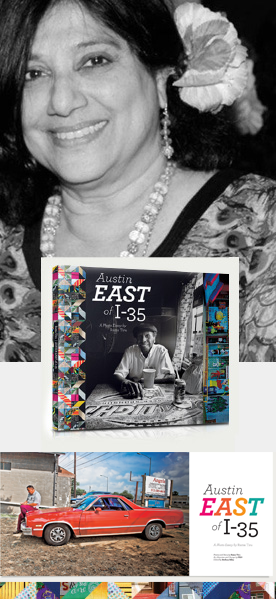 CLIENT: Rama Tiru

THE WORK: Austin: East of I-35, a photo essay coffee table book
Rama is a force of nature.  I've never met anyone like her.  A talented photographer and teacher, she has a sparkle that is hard to resist. In our first meeting, she told me that she wanted me to help her create a book.  She had hours of untranscribed interviews and hundreds and hundreds of photos.  For the previous year, she had been exploring the east side of Austin, taking photos of the people that live and work there, asking them to tell her their stories of the neighborhood.  The amount of work involved was daunting.  The timeline was too.  Yet, I could not say no to her.  The resulting coffee book,  Austin: East of I-35, is a beautiful document of a neighborhood that is rapidly changing. I am forever thankful to Rama for being so very irresistible.  Our collaboration is one of best decisions I've ever made.
All photos and work are attributed to Five and Four unless otherwise noted. Please give credit if used elsewhere.
Purpose
This is the online showcase of the work and interests of Jennymarie Jemison, the owner and creative director of Five and Four. The work herein was created by Five and Four, which is Jennymarie and select collaborators. Favorite topics include work, life in Austin, film, and freelance success.