Melissa Nicholson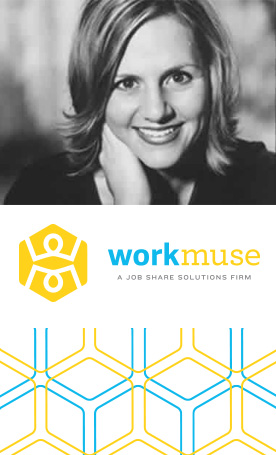 CLIENT: Melissa Nicholson

THE WORK: Work Muse Branding
Melissa is a wonder.  She taught me about the practice of job sharing, or as she calls it, a "job share revolution." In this brave new world of work, parents, caregivers, millennials, boomers, women and men that want better work / life balance are educated in how to achieve it through job sharing. Likewise, employers receive customized job share design with training, implementation & support to transform their workplaces into the most sought after place to work.  Melissa brought so much to the table.  My job was just trying to harness all the energy and ideas that spill out of her at every turn.  She is a dynamo.  I truly think she is going to change the world.
All photos and work are attributed to Five and Four unless otherwise noted. Please give credit if used elsewhere.
Purpose
This is the online showcase of the work and interests of Jennymarie Jemison, the owner and creative director of Five and Four. The work herein was created by Five and Four, which is Jennymarie and select collaborators. Favorite topics include work, life in Austin, film, and freelance success.