New Work
| 04.17.2017
The South Terminal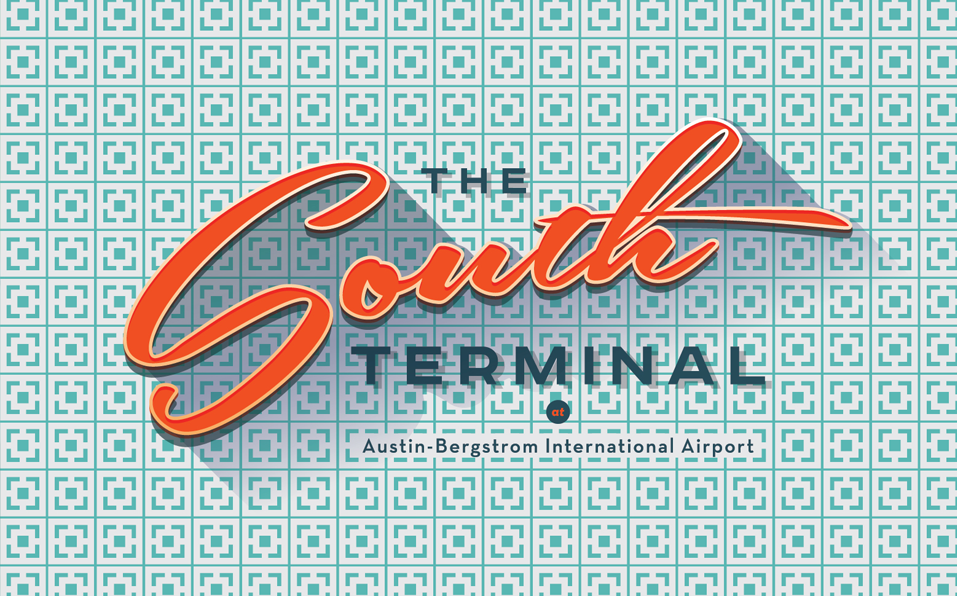 Click on the photo to enlarge or see more images
CLIENT: Lonestar Airport Holdings LLC
MEDIUM: Logo and Identity suite, responsive website with custom CMS: www.austinsouthterminal.com
PROJECT DESCRIPTION: Branding and website for The South Terminal at Austin-Bergstrom International Airport

Being in the design field, you have to accept that the work you do is mostly ephemeral.  Websites get updated, products disappear from the market, businesses close up shop and your work disappears with them.  It's a part of the job you have to accept, although it always hurts a little.  So you have to understand that for me, this job is one of the most thrilling projects I've ever had the good fortune to be a part of.  The South Terminal at Austin-Bergstrom International Airport opened to passengers last Thursday, and I was there for it, grinning like an idiot, over the moon to see my work not only displayed but integrated throughout what I hope will remain a fixture of Austin's infrastructure for decades to come.
I never expected to get this job.  I was asked to submit a proposal, but I knew I was bidding against much bigger agencies, many out of NYC, and while I assumed it was a lost cause, I wanted it so badly that I put a lot of time into the proposal, describing an aesthetic for the look and feel that hearkened back to mid-century design and the golden age of travel.  Little did I know that that was already the look and feel for the renovation.  The South Terminal at ABIA is very small.  It's designed so that you exit the gate and walk out on the tarmac to board your flight.  It's very Mad Men, or Catch Me if You Can.  And that's exactly what I described in my proposal.  A lucky case of kismet to be sure, because it landed me the job.  And after that, it really was a breeze as projects go.  Rarely are you so in sync with a client from the get go.  In this case, even before the get go.  And now that's ended, I can't wait to visit again, but this time as a passenger, for years and years to come.
Find out more about the Austin's South Terminal at ABIA and see the website we designed for them here:  austinsouthterminal.com and you can read a write up by Wayne Allen Brenner for the Austin Chronicle of this work too! Very cool to be recognized for it. <3
All photos and work are attributed to Five and Four unless otherwise noted. Please give credit if used elsewhere.
Purpose
This is the online showcase of the work and interests of Jennymarie Jemison, the owner and creative director of Five and Four. The work herein was created by Five and Four, which is Jennymarie and select collaborators. Favorite topics include work, life in Austin, film, and freelance success.